Amanda Wang, featured in the 2010 July/August issue of Scientific American Mind and the 2016 May issue of Women's Health Magazine, has been helping others uncover their story of BPD in New York City and beyond through media. Her next project, a suicide prevention app that melds technology and evidence based treatment together, is currently in the works.

Amanda speaks of the hope, strength and vitality occurring within the BPD community — a population that has long been stigmatized and misunderstood. With an honest and open look into her own struggles, setbacks, and eventual breakthroughs, Amanda pushes forward, challenging herself and others to find the courage to lead and the strength to endure, despite the odds.
If you would like Amanda to speak at your next event, you can contact her at amanda(at)rethinkbpd(dot)com.
______________________________________________________________________________
Latest Speaking Engagement:
AOL Build: Mental Health Awareness Panel (May, 2016)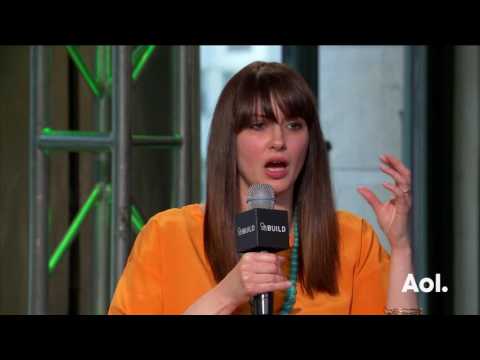 _____________________________________________________________________________________
Previous Speaking Engagements
Yale University School of Medicine. Borderline Personality Disorder, Trauma, and Resiliency.
Sponsored by NEA-BPD. With Judith Lewis Herman, MD; Seth Axelrod, PhD, Steven Southwick, MD; Kiera Van Gelder, and Shireen Rizvi, PhD. View Amanda's presentation here.
New York Presbyterian/Westchester. Adolescent Pathology: Personality Disorders & Comorbidity.
Sponsored by the BPD Resource Center. With Otto F. Kernberg, MD; Pamela Foelsch, PhD; Katherine Halmi, MD; Amy Silverman, MD; and Catherine Bookless, LCSW.
Bergdorf Goodman. Meet & Greet.
Sponsored by the NEA-BPD. With Marsha Linehan, PhD; Herbert Pardes, MD; Blaise Aguirre, MD. View Amanda's talk here.
Columbia University. The Storm Within: Understanding Borderline Personality Disorder
.
Sponsored by the Social Relations Research Laboratory, Columbia University Psychology Department. With Kathy Berensen, PhD; Shirley Matthews, PhD; and Valerie Porr. View Amanda's talk here.
Kings County District Attorney's Office: Barrier Free Annual Conference
Walking the Line: Trauma, Victimization and BPD.
2010 NAMI National Convention: Recovery & Reform
Remarkable Women in Recovery With BPD. Washington, DC.
With Tami Green, Kiera Van Gelder. This session features three accomplished women who have developed strategies for recovery through advocating awareness of BPD and helping others.
NIMH Director's Innovation Speaker Series
Borderline Personality Disorder  – The Myth and New Reality
NIH Neuroscience Center, Rockville, MD
With Dr. Marsha Linehan, Beth Elliot & Dr. Perry Hoffman. This opening lecture, to be presented by several stakeholders involved in the area of (BPD) will focus on the history of the disorder and its diagnosis, and contemporary findings, which point to cause for hope. BPD is a serious and often life-threatening disorder. Historically BPD was considered to remain a lifelong problem with an extremely poor prognosis. However, work over the last several years indicates that there are treatments that work, and that people with BPD and their loved ones are not irrevocably destined to a life of misery and repeated crises.
New York Presbyterian Hospital
Spoke with NYPH Dialectical Behavior Therapy program about the journey towards recovery.
2011 NAMI Convention: Better Together
Addressing Mental Illness Among Asian Americans & Pacific Islander Communities
Friday, July 8th, 2011 – Chicago, IL
Did you know that Asian American teenage girls have the highest rate of depressive symptoms of any racial, ethnic or gender group? What can we do about it? This and many other important considerations are addressed in the report of a NAMI Asian American and Pacific Islander Mental Health Listening Session released earlier this year.
2012 Mt. Sinai Hospital
Spoke to Mt. Sinai's psychiatric residents about borderline personality disorder and the personal journey towards recovery.
2013 NYC Mental Health Film Festival
Co-sponsored by Community Access and NYAPRS, the 9th Annual NYC Mental Health Film Festival brings to downtown Brooklyn a vivid selection of thought-provoking films which positively portray the mental health community. The festival screened the RethinkBPD video as well as conducted a panel session and Q&A with Amanda Wang.

2016 AOL Build: Mental Health Awareness Panel
May is Mental Health Awareness month. Join "Women's Health" Editor-in-Chief Amy Keller Laird as she leads a discussion with Ben Michaelis, Risa Sugarman and Amanda Wang on mental health with the goal of breaking taboos by putting real faces to medical diagnoses, open up the dialogue, spark change and ultimately stop the stigma associated with mental illnesses. Interview at AOL HQ in NYC for BUILD Series.
_____________________________________________________________________________________
Testimonials:
Your message to everyone is always the most important and what people remember in their hearts…You are an amazing spokesman who brings truth, passion and hope to the BPD community.  I can't tell you how much I appreciate your ability to balance it all and your generosity to be there for NEA-BPD is such a gracious way.
Perry Hoffman, PhD. President, NEA-BPD.
While many mental health issues are emerging from a cloud of stigma, this is nowhere more important than for BPD. For this reason, I am very impressed with RethinkBPD. This project will not just demonstrate the challenges faced by people with this disorder, but will more importantly reveal that recovery is possible, that effective treatment exists, and that hope is realistic.
Commissioner Michael Hogan. New York State Office of Mental Health.
I watched your video and was tearing up and blowing my nose the whole time. It was very moving and touching, and at the same time very empowering. Thank you so much for sharing it with all of us. You have a wonderful gift, and I believe that your story will help so many people…with or without BPD. You got me thinking about what my own story is and what my 'why' is. I can't say I have any ready answers, but I guess the first step is to get all of us thinking and reflecting on our own lives. I think it was a remarkable talk.
Anna, BPD Family Member.
_____________________________________________________________________________________
Sample Videos:
30 min talk: Boxing, BPD & My Living Story from Amanda Wang on Vimeo.

5 min. talk: NEA-BPD Meet & Greet.